Serangoon Central, Central Singapore (Nex)
24 hour gym
23 Serangoon Central, #04-73/74/75 nex
Singapore, Central Singapore 556083
+65 6555 3400
join online
special offers
student and senior promo ($0 joining fee)
We will waive off your Joining Fee of $98 if you present your Student Pass or if you are over 69 years old! *terms and conditions apply*
valid through: ongoing tnc's apply
refer a friend or a family member and get a month's free!
Be a part of the AFnex team and refer a friend or a family member to enjoy a month's free membership! #awesome Drop in today to find out more #YourMoveAnytimer!
valid through: ongoing tnc's apply
club at a glance
24 hour access
24 hour security
convenient parking
anywhere club access
private toilets
private showers
personal training
classes
cardio téléviseurs
hdtvs
wellness programs
functional training
members lobby

cardio equipment
treadmills
elliptical
exercise cycles
stair climbers
new - flexstrider and lateral x
new - powermill climber and spin bike

strength equipment
circuit / selectorized
free weights
racks
plate loaded
new - insignia series
4 x power racks, lifting platforms and bumper plates

staff
anthony tee
manager
I'm a firm believer of lifelong learning as I work towards enhancing the well-being of our members and clients by empowering them with the knowledge and resources to assist and inspire them on their journey to a healthier lifestyle. Together with my team, through active participation in activities with integrated fitness programs and monitoring systems, we will make your health goals a reality in a fun and caring environment.
faizal rapiee
manager
Faizal's passion for Health & Fitness can be traced back to his youth days where he was actively participating in various Sports activities. He later ventured into Western Boxing, Muay-Thai Boxing and Muay-Boran (Ancient Martial Arts of Muay-Thai), and also Body Building in his teenage days. Apart from his years of experienced in the Health & Fitness industry since 2005, both in Supervisory and Managerial position, Faizal also enriched himself in Holistic Fitness & Wellness Consultation pertaining to General Health to achieve a well-rounded understanding of his chosen career. If you have any general questions pertaining to our Services and/or Fitness related inquiries, drop by the Club and meet up with Faizal. He's always up for a friendly chat :)
marhoum teddy
manager
Teddy started his fitness career right after the new Millenia (2002). Prior to embarking unknown territory, he was a beginner like most of us. Since then he has devoted his life to the fitness industry helping others accomplish their goals . He has numerous qualifications under his utility belt both taken locally and abroad. With a plethora of information at his fingertips he has managed over 200 personal trainers at multiple fitness clubs. He is the man to go to for the optimal member experience. He has the knowledge, experience and a great sense of humor
pauline tan
manager
Pauline started her career as a dancesport athlete (represented Singapore in International Latin American Dance Competition), where she developed her interest in fitness. This brought her into the field of physiotherapy, where she helped patients to recovery from injuries, allowing them to resume their daily life. Looking at how patients suffer due to incorrect exercise techniques, improper posture and other misconceptions, she joined the fitness industry with a mission to empower people with better knowledge in health and fitness strategies. She holds a Diploma in Sports Coaching and is a certified Personal Trainer (American Council on Exercise).
alicia ng
staff
I am extremely enthusiastic and passionate about working out, this has made me pursue a Diploma in Sports and Exercise Sciences as well graduate with a Bachelors in Sport Studies and Marketing. I started my fitness journey in weights training 4 years ago and have not looked back since. I have achieved junior world and national open records for Powerlifting although my training background is in bodybuilding. I love to interact with people, and help them achieve their fitness goals. If you have questions or doubts in the gym, please feel free to approach me for a chat!
alexander lim
trainer
A skinny and hyperactive kid back in school, Alexander kept himself busy with a variety of sports such as Basketball, Cycling and BMX. Alexander started strength training in 2011 when he was in the army, and eventually developed the lifestyle for it. He now trains at least six times a week and is passionate about helping his clients achieve their goals.
amir hamzah
trainer
Amir began his passion for the Fitness back during his days as a recruit in the SAF. Being a skinny guy, Amir always have trouble performing his exercises and as a result he always stayed back for remedial training. Having enough failures, Amir started to implement the triple D's which is Desire, Decision and Dedication to his lifestyle. Till now Amir still practiced his 3 Golden Rules and would intend to share it with his future clients.
say yee neo
trainer
Say Yee is a certified Personal Trainer from American Council on Exercise. During his 5 years of personal training, he has developed a passion to help people achieve their fitness goals and lead a healthy lifestyle through fitness and diet. He has tried various training methods throughout the years to constantly improve himself. The tough times spent during training have taught him that persistence, commitment and patience are keys to achieving positive results.
Check Us Out #Anytimers #TeamAF

n

e

x



The Largest 24 Hour Club in Singapore
THE
n
e
x
BIG THING
IS HERE!
2 million people around the world cannot be wrong.
Keeping it real. Get started and be a part of our Anytime.Fitness.nex team today. Anytimers for life!
Call us today at 6555 3400 to set a complimentary orientation and meet our personable team in person
or
Drop in and say hello @
n
e
x
level 4R daily
Follow us on Facebook and Instagram for instant updates and fun pictures :)
Staff Hours:
Weekdays from 1030am to 0930pm
Weekends & PH from 1200pm to 0800pm
One Day Trial Pass:
For a day pass, you may apply online via the link provided above. Trial hours are as follows:
Weekdays from 1100am to 0600pm
Weekends & PH from 1200pm to 0600pm
Terms and Conditions:
1. Please provide a copy of the email confirmation and identification card for the one day trial. You may call in to confirm your appointment with us.
2. The one day trial is limited for one usage per person and cannot be re-use by the same person.
3. The one day trial is limited to Singapore Citizen, Permanent Resident and Employment Pass Holder.
4. You must be above the age of 18 years old to utilize the Day Trial Pass.
5. For security reasons, the one day trial can only be utilize at the stated timing above.
Anytime Fitness is the World's Largest 24 hour, co-ed fitness company! and we are the largest club in Singapore
Do your homework...
We are real people...
and we are not going anywhere.
Always open convenience
At Anytime Fitness @nex, we fit your busy schedule and on-the-go lifestyle. At our health club, you can exercise anytime of the day or night using your own security-access key/card! That's 24 hours a day, 7 days a week, 365 days a year. Talk about no more excuses!
Affordable memberships
It doesn't cost a lot to achieve your health and fitness goals at Anytime Fitness Nex. For a low monthly fee, you get far more than you'd expect! Come in and see our fitness center for yourself. We'd love to show you around!
All you need, all you want
At Anytime Fitness Nex, you will find amazing amenities--including the best fitness equipment available! Plus, our club has a friendly and supportive atmosphere, and we're super clean, too! To help you get started, each new member receives a FREE personal fitness orientation!
One membership, thousands of clubs
At Anytime Fitness Nex, we're proud to offer the benefit of Anywhere Club Access. With this benefit, you can visit thousands of clubs worldwide for the price of a standard monthly membership. With Anywhere Club Access, you can exercise whenever--and wherever--it suits you best.
Stay up to date...Follow us on Facebook for tips, motivation & promotions!
Got a Fitness resolution this New Year 2017?
Join our fat-burning, fun-filled Group Fitness Classes only at Anytime Fitness nex
Classes Time Table: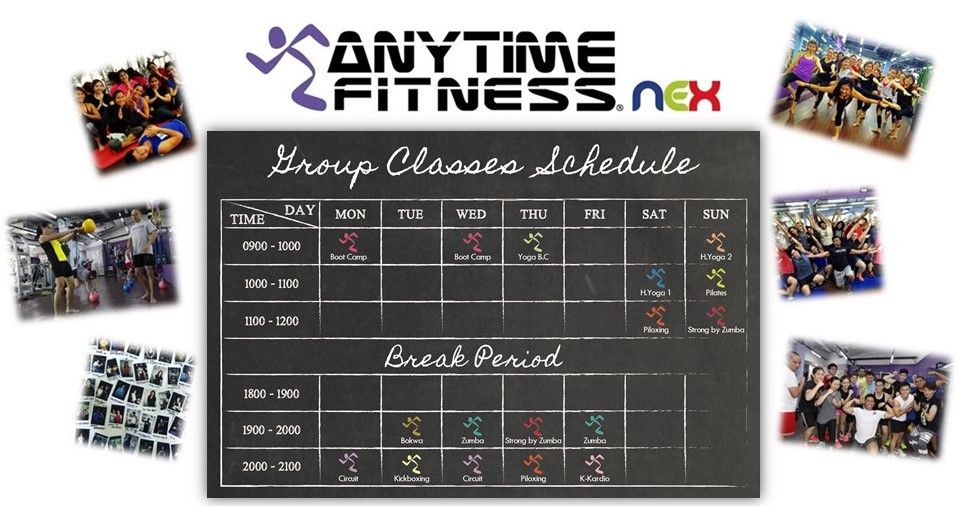 More Fitness Group Classes coming your way in 2017...
Barre...
Pound Fit...
The Boss Chick Dance Workout...
Stay tune... (T&Cs apply)
PS: Classes are an hour each
See you at the Club! :)